Disclaimer: This post may contain affiliate links. We only share products + tools that we use and love.
This post is a summary + introduction on how to launch your own WordPress website. For the basic steps to get you started, read the post below!
If you're looking for more in-depth, step-by-step lessons, you should enroll in our DIY course: How to Build Your Own WordPress Website.
It costs less than a theme and includes lots + LOTS of information for you to create your own (awesome) website 🙂
---
Hi there! We're Jordan + Pete.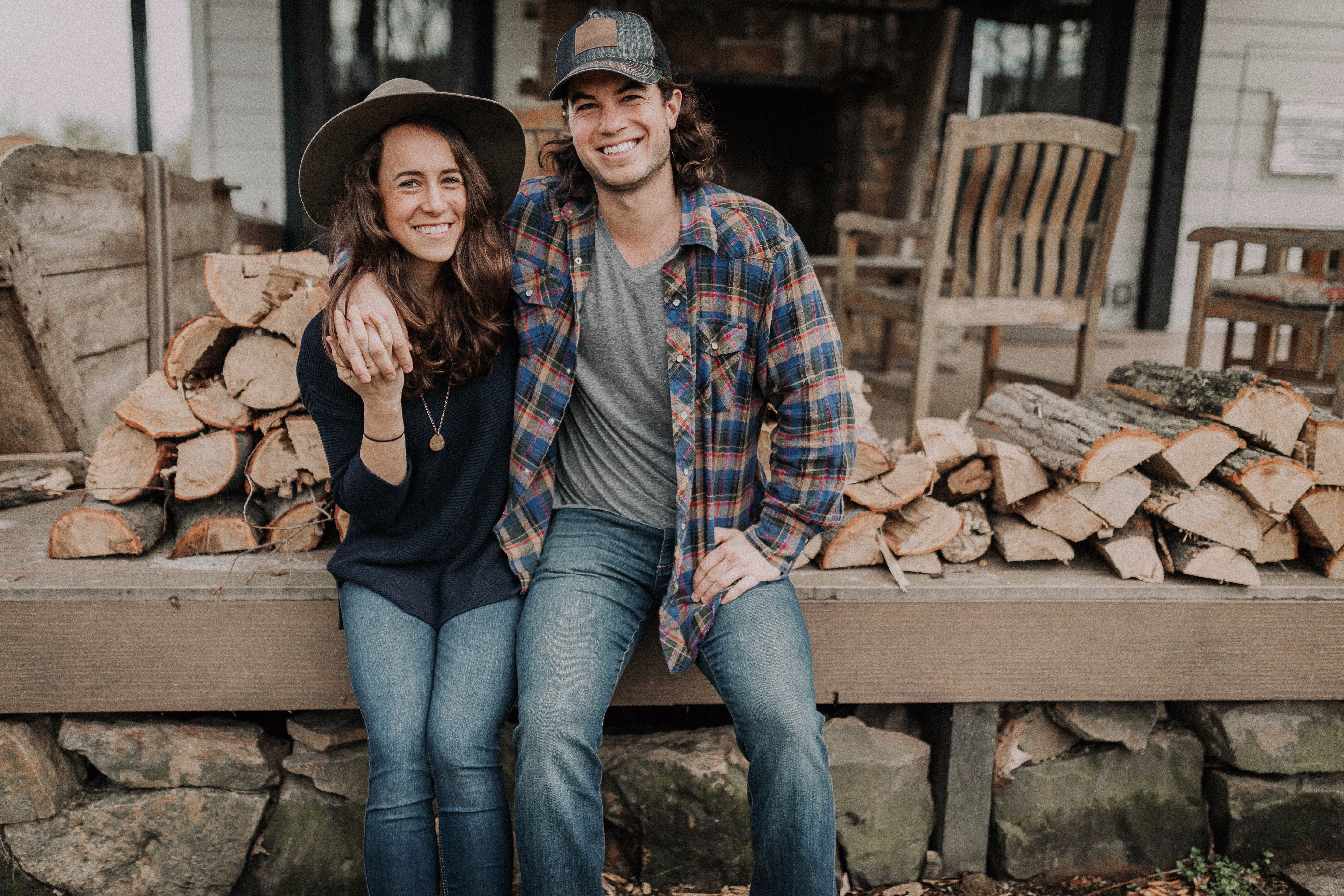 We're newlyweds, believers, and adventurers.
We love all things marketing – and have a serious case of the travel bug.
We live and work full-time from our RV and are growing our business and we travel across America.
So what does this have to do with you?
This all started with one little blog.
In 2014, we launched Quarter for Your Crisis as a blog and community for intentional living.
We had no idea what we were doing, or how to build a website.
Thankfully, we had studied business and marketing in college and had taken some basic web design and coding classes.
Still, there was a LOT of googling, and even MORE trial + error that had to happen for us to get our first website live.
We can still remember that morning – pressing publish on our first posts, and sharing our blog with the world.
It was scary, and exciting, and we were so darn proud of the little website that we built together.
Fast forward three years, and that blog has grown and evolved with us.
It's been a travel and interview outlet as we backpacked across South and Central America.
It's allowed us to launch a web design agency.
It gave us the freedom to pivot as our expertise grew and our priorities changed.
And now, that same little site has transformed into a business that lets us live and work full-time from an RV.
All of this – from one blog turned business.
So now it's your turn!
If you're here, you're ready to start your own blog or website. Maybe it's for fun, maybe it's for growth, maybe it's to launch your own business (yay!) – whatever the reason, we're happy you're here 🙂
Starting Your Own Business – What to Do Before You Build a Website
There are a lot of things that happen before you build or launch a website for your business.
Obviously, you need to have the product or service idea first. Or maybe it's a brand. Maybe it's a blog. Maybe it's super awesome pictures of your dog!
Whatever your idea is, the first step is to get clear.
1. Create a mission statement, vision, and goals.
This was a big mistake we made in our business and has forced us to backtrack, relaunch, and shift more times than we would like to admit.
Aside from wanting to give you practical advise on how to start a business, blog, or website, we're also going to keep it real about our own struggles and successes.
With everything that we write (especially content like this!) our goal is to help you avoid some of those fun mistakes we've made in growing our own brands and businesses 🙂
2. Make sure your name is available
This may seem pretty obvious, but it's a step a lot of people skip right over – only for it to bite them in the booty later on.
When you're thinking of your business name, or how you're going to brand it/yourself online, you should ask the following questions:
Is the name available across social media platforms?
Is the name going to work as a handle (@quarterforyourcrisis is too long on some platforms! and it's a bummer to not be consistent)
Is the name understandable + recognizable? (Jersey people love and understand the word "Shoobie" – which was our marketing agency name – so it worked great with our local shore clients.. once we expanded, not so much)
Is anyone else using a similar name for the same idea? (you don't to lose followers or clients because they were confused and found the wrong person!)
3. Know Your Purpose
This last piece is similar to the first, but is so so important. Before you start creating your brand, logo, website, or even naming your business, you should get clear on its purpose.
Knowing the purpose behind your business is going to influence everything – especially how you communicate what you do, why you do it, and who you do it for.
Now onto the fun part!
Roll up your sleeves, put on your favorite Spotify playlist, and let's get started.
---
How to Build Your Own Website
Fair warning: this post is going to be a bit longer than most. We are going to walk you step-by-step through the process of creating and designing your own website (without breaking the bank or pulling your hair out!).
*Again, if you're looking to get into the nitty gritty, we HIGHLY recommend enrolling in our course: How to Build Your Own WordPress Website.
Building websites is something that is near + dear to our hearts.
We founded our marketing agency in order to help other entrepreneurs and business owners create beautifully-designed, responsive, and functional websites without spending thousands of dollars.
Now that we're handing the baton over to you to build + create your own, we want to make sure we're equipping you with the best advice and guide that we can!
Buying Your Domain Name and Web Hosting from BlueHost
There are quite a few places to buy your domain name from, but in an effort to keep this as simple and easy to follow as possible, we're going to walk you through buying your domain name and hosting on BlueHost.
If you want to purchase your domain on GoDaddy check out this post first!
Why We Love and Recommend BlueHost
Now although we bought our first domain name with GoDaddy, we had no idea that you could get a free domain with your hosting through BlueHost (rookie mistake!). BlueHost is the provider that we always recommend for our clients (+ use ourselves) in terms of web hosting, so we obviously think it's a great place to get your domain name from as well – especially if you can snag it for free!
There are quite a few reasons why we're strong supporters of buying your web hosting through BlueHost, but to name a few:
You can get a free domain name with your hosting
BlueHost makes it SUPER easy to install WordPress and create your website or blog
BlueHost is really affordable. It may seem like a bigger expense if you're buying hosting for multiple years (which we always do, because it's way more cost efficient), but it's really the only expense you need to incur to get your website up and running.
BlueHost has phenomenal tech support (aka when our website crashed the night before we launched our tshirt line and they worked with us until 3am to get it back up and running! #customersforlife)
BlueHost has a 30-day guarantee if you change your mind
How to Buy Your Domain and Web Hosting on BlueHost
To get started with your domain and hosting, go to BlueHost and click "Get Started Now"
2. Select the plan that's right for you. If you are only building this one website you may be okay with the basic plan. Personally, we recommend the Plus plan because it allows for a lot more growth with more websites, bandwidth, email accounts, etc.
You will notice all of these plans include a free domain! woot woot!
That being said, if you are being super budget-conscious and know you only need one website, you would be okay with the basic plan.
You can view the breakdown of the plans here:
3. Once you select your plan, you can then find your domain name where it says 'New Domain'. Enter in the domain you would like to purchase and click "Next."
4. If you are buying your domain name and it's available, you will then be asked to create an account (or use Google to sign it – love how seamless they make things!).
Pro tip: Use "Honey" for discount codes. One of our bagillion extensions on our Chrome browser is called Honey. It basically just sits quietly on your browser until you go to check out and then it magically shows you any coupons that may help you save money! It's also totally free to download. Win-win in our minds 🙂 You can download Honey here!
If you are buying your domain name and it's not available, BlueHost will show you options for similar domains or that same second-level domain (the "quarterforyourcrisis" part of "quarterforyourcrisis.com") with different extensions:
Once you find the right domain name, you will be asked to create an account (or use Google to enable single sing-on). You will also be able to choose your package terms and enter payment information. (Hint: see the pro tip on using Honey above!)
Woooo! You're all ready to go. Now that you have your domain name and web hosting, it's time to set up your blog. (If you purchased your domain through BlueHost, you can skip the next small section and go right to "How to Create a WordPress Site with BlueHost!")
Linking Your GoDaddy Domain with Your BlueHost Account
If you purchased your domain from GoDaddy, you will need to log in to your registrar so that we can change the nameservers of your domain to point to your BlueHost web hosting.
GoDaddy has a great article on how to change your nameservers.
BlueHost's Nameservers are:
ns1.bluehost.com
162.88.60.37
ns2.bluehost.com
162.88.61.37
Once you update the nameservers on GoDaddy, you will need to add the domain in BlueHost as an Addon Domain:
First, log in to your BlueHost control panel
Click on the Domains tab at the top
Under Shortcuts, click Assign a domain to your Control Panel account
Follow the directions to add the domain as an Addon domain
How to Create a WordPress Site with BlueHost
Awesome – now that you have your domain and web hosting, you're ready to install WordPress!
This part is a huge reason why we love BlueHost – they just make it so simple to set your site up on Wordpress.
Downloading WordPress in BlueHost
Log into your BlueHost account
Click on the WordPress Tools tab at the top
Click on New Install
Choose Your Domain (if you have multiple assigned to your BlueHost account)
Enter Your Site Title (name of your website)
Create an Admin Username, Password, and Email
Click Install WordPress
Logging in to Your WordPress Site for the First Time
To log in to a WordPress site, open a new window in your browser and enter the site URL followed by "/wp-admin"
For example: www.thenameofyoursite.com/wp-admin
Here you will enter in the Username and Password that you created in the last part.
Customizing Your WordPress Settings
You're almost there! You now have purchased your domain, set up your hosting, and created your WordPress site.
All that's left is the actual designing of your website!
Now don't get us wrong – this is by far the most fun part of the process. It's also the most difficult + time consuming.
You can make your site as complex or simple as you'd like in terms of design and functionality.
Before you get into the nitty gritty of web design, we'd definitely recommend writing out an outline of how you want your site to look (which pages, information, and content do you want to feature).
There are also some general settings that you can begin to customize within your WordPress site before working on your look and feel.
On the left-hand side of your Dashboard, hover over the Settings option and click General.
Quick note: your Dashboard and Settings options will most likely look a little different than ours, especially if this is your first time logging in to WordPress! Our Dashboard includes addons for programs, plugins, and systems we use such as ActiveCampaign, and Envato (you can learn more about our favorite tools + resources here!)
Customizing Your General WordPress Settings:
Site Title – the name of your website (ex: Quarter for Your Crisis)
Tagline – a short phrase or sentence to summarize what the site is about (extra bonus points if it's funny or eye-catching!)
Email Address – the main admin email
Membership + Default Roles – if you allow anyone to register for the site and what the default role a new registration will fall into
Timezone – the timezone for the website (presumably where you live + operate from!)
Date + Time Formats – how you want the date and time to appear on your website or blog
Week Starts On – what you consider the beginning of the week for the blog, stats, etc
Site Language – the default language of your website
Customizing Your Writing WordPress Settings
The key parts that we would look at here are the first three options. The bottom section is only needed if you plan to write posts directly from your email.
Formatting – if you want to keep : ) as a smiley face or convert to an emoticon
Default Post Category – if you have different categories for your blog
Default Post Format – most people use the Standard format
Customizing Your Reading WordPress Settings
The Reading settings are important if you plan on blogging for your website.
Front Page Displays: Will your homepage be your blog or will you create a distinct page to display as your homepage? If you choose to create a distinct Front Page, you will have the option to choose which page will be your "home" page and which page will be your "posts" page (your blog)
You can also choose the amount of blog posts you want to show on your blog's homepage, whether you want to show a summary or full text, and if you want search engines to index this site.
Customizing Your Discussion WordPress Settings
Default Article Settings – we allow all of these options
Other Comment Settings – we allow people to comment as long as they fill out their name and email. We used to require people to register but we found it significantly reduced the amount of people who left comments. By not forcing people to register, it does open us up to receive spam comment. If you go this route, definitely make sure you have a spam checker in place (we use Askimet!)
Email me whenever – Depending on how many comments you receive, you can choose if you want to be notified each time someone comments
Before a comment appears – do you want to manually approve each comment?
Comment Moderation – helps to prevent spam
Comment Blacklist – helps to prevent people from leaving comments containing certain words (cursing, hate, etc)
Customizing Your Permalink Wordpress Settings
Permalinks are a helpful way to organize your site as well as boost your SEO. We recommend using the Post Name setting or Month and Name setting.
If you are optimizing your post names for SEO, this will help you boost your organic rank.
Finding the Right Theme for Your WordPress Site
With your basic WordPress settings in place, you are ready to start customizing your theme.
While WordPress will come with some basic free themes, we highly recommend finding a theme that fits your look, purpose, and functionality that you want your website to have.
Personally, we use and love ThemeForest, which is part of the Envato marketplace.
Take some time to really look through the themes. Find some inspiration and consider which ones may be the best fit for your website. While they aren't super expensive, it's no fun to purchase and start customizing a theme only to realize it's not really what you were looking for – or worse, it can't do everything that you need for your website.
To help you get started, we put together a list of what to look for when purchasing your website's theme:
Does the theme offer support? For how long? (we personally LOVE X-theme, and they have the most incredible support)
What are people saying in the reviews? Are there any major issues that you keep seeing?
How will you receive updates?
Is there a front-end editor included with the theme (SUPER important if you aren't comfortable with coding!)
Is the theme mobile responsive?
What functionalities are included?
What is the cost?
What additional programs or plugins are included?
Are there any demos you can view for examples and ideas?
What does the blog look like and what are the customization options?
Installing Your WordPress Theme
Once you've purchased your new theme, you will need to install it on your WordPress site:
Download the theme from Themeforest.
Navigate to your Dashboard and hover over Appearance.
Click Themes.
At the top, click Add New
At the top, click Upload Theme
Choose the theme's zip file or drag and drop it into the uploader.
Once the theme has been installed, activate the theme.
You're now ready to start customizing and designing your website!
On your Dashboard, go to Appearance and click Customize.
The Customizer will allow you to make changes to your theme's options. Once you've decided on things like your typography, blog layout, header, etc you can start creating your pages + content.
---
Phew! Thanks for sticking with us 🙂 We hope this post helped you walk through the start to finish of creating your own WordPress website.
Once you get your site up + running, please share it with us in the comments below! We love seeing what our community is up to.
If you still have questions, feel free to leave a comment below or take the next step + enroll in our course below!